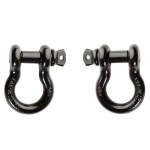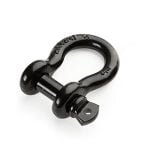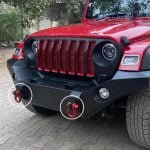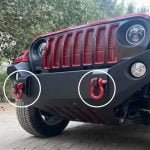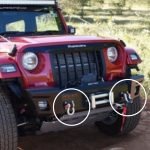 Bow Shackle Screw Pin Type, 4.3/4 Inches (Pack of 2)
Size: 3/4 Inch , W.L.L : 4.3/4 T

Working Load Limit permanently shown on every shackle. Grade 80 Forged- Quenched and Tempered.

Capacities 1 ton to 55 tons. Lockforthe Yellow Pin, the mark of genuine safelift quality. Shackles can be finished proof tested with certificates, Charges for proof testing & certification available when requested at the time of order.

Shackles are galvanized. Drop forged, quenched and tempered , with alloy pins. Minimum breaking load is 4 times of working load limit. Maximum proof working load is 2.2 times the working load limit.
Description
Additional information
Reviews (0)
Description
Heavy-duty D-ring shackle provides superior towing power for vehicle recovery or heavy-duty towing needs. Made of drop-forged steel, this tow shackle features a towing capacity of up to 4.75 tons (9,500 pounds), and is powder-coated for rugged durability and lasting performance. For improved safety and secure towing, this 3/4″ diameter shackle comes with an industry-standard 7/8″ locking pin. Whether using tow or snatch straps, snatch blocks, or even tree savers, this towing shackle will get the job done. With this shackle, you'll always have an easy, dependable connection point ready to go.
Features
1) HEAVY-DUTY: Crafted using a drop-forged steel manufacturing process for superior strength and resilience and finished with a rugged powder coating to resist rust and corrosion, this shackle is built tough for lasting use and performance.
2) HIGH-CAPACITY: Features a gross towing weight rating up to 9,500 pounds (4.75 tons), for serious towing and vehicle recovery capability.
3) SECURE FIT: Designed to fit Jeeps and most trucks, this 3/4″ diameter shackle comes with an industry-standard 7/8″ locking pin to keep it in place and stable while pulling or towing.
4) OFF-ROAD VERSATILITY: Ideal for Jeeps, trucks, and sport-utility vehicles, this shackle easily supports pulling vehicles, yanking tree stumps, moving equipment, and much more.
5) EASY-TO-USE: Always have a dependable connection with this shackle, specifically designed to quickly connect to a vehicle or winch in mere seconds, with easy installation or removal.
You might be interested in